Bike alarm system at a glance
Protect your bike with the best bike alarm system
Cars come standard with an alarm system, and you can easily retrofit one on motorcycles and houses. Your own bike is dear to you. Nevertheless, a bicycle lock with an alarm has so far been rather unusual and is usually not part of the standard equipment.

Find out why a bike alarm is worthwhile to protect your bike.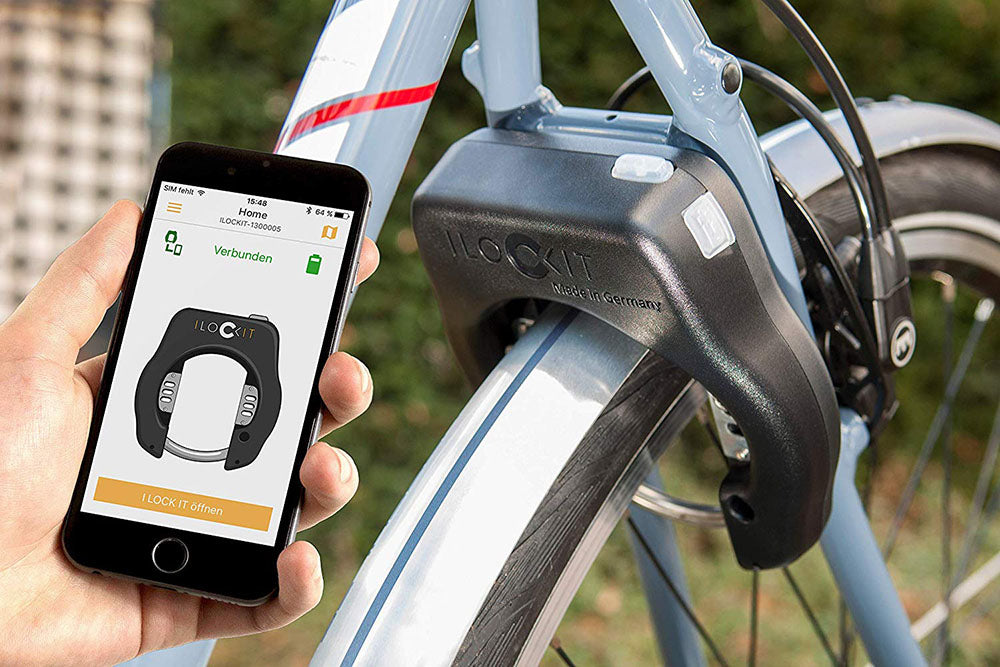 A bike theft is a very annoying thing that involves cost and time. In addition, thieves also like to steal bicycle accessories. Although the accessories can usually be replaced inexpensively, it is no fun to go home without a bicycle saddle. It is therefore important to implement all measures for effective theft protection.
The protection previously provided by a classic bicycle lock is therefore supplemented by a bicycle alarm system. Bike thieves - especially the professionals - don't stop at bike locks, which they have broken into several times before.
The experience gives them the security of being able to steal the bike within a very short time. If you are unlucky and the thief chooses his own bike, then the chances are very bad.
Standard protection is therefore obsolete and should definitely be supplemented by an alarm system .
I LOCK IT is the best bicycle alarm system with innovative functions
With I LOCK IT - a bike lock with alarm - you maximize the security for your bike or e-bike against theft.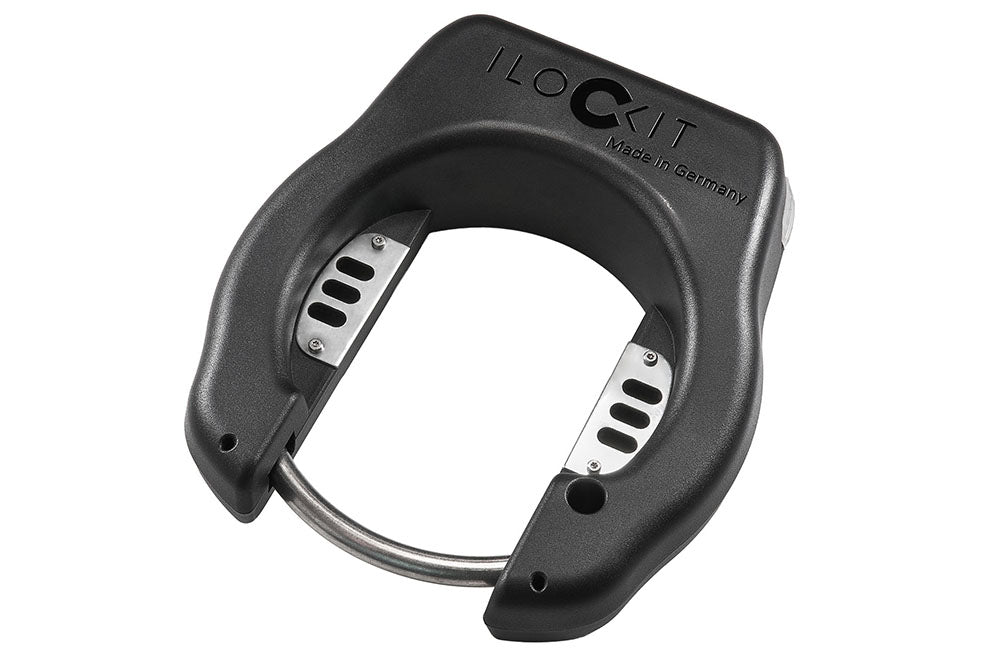 Because I LOCK IT:
Has a 110dB alarm triggered by intelligent motion sensors
Sends you a notification on your smartphone
Automatically secures your bike during short stops via app or hand-held transmitter
Is extremely convenient to use
Is constructed with robust materials and is highly resistant to common theft methods
I LOCK IT users particularly like the simple operation of the lock, the integrated loud alarm system and the app connection .

Brand new, I LOCK IT GPS is now equipped with GPS live tracking . As soon as the alarm is triggered, you will receive a real-time notification on your smartphone and you can track the position of your bike.
Guide: What is a bicycle alarm system?
The protection previously provided by a classic bicycle lock is supplemented by a bicycle alarm system. A bicycle alarm system is an acoustic protection that supplements the mechanical security with a bicycle lock.

A bicycle alarm system reacts to unauthorized movement and triggers a permanent alarm that is up to 110 dB loud. This warns the surrounding area and thieves usually stop their crime immediately.

Some bicycle alarm systems can be controlled intelligently and first trigger a pre-alarm and then the permanent alarm. The alarm can be switched off by code, smartphone app or fingerprint.
Why should I equip my bike with an alarm system?
The bicycle alarm surprises the thief when he plans to do it
Real-time notification on your smartphone
Passers-by are alerted by the loud bicycle alarm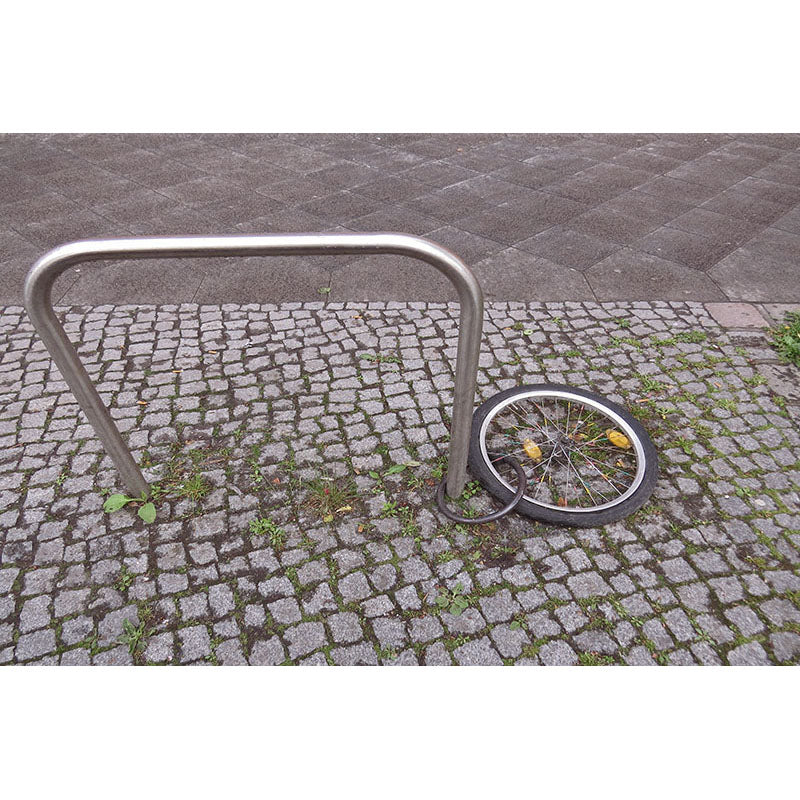 In Germany, thieves steal around 300,000 bicycles every year . The number of unreported cases is significantly higher. Bike thieves - especially the professionals - don't stop at bike locks, which they have broken into several times before.
And the place where the bike is parked is also irrelevant: whether at the train station, in front of the bakery or in your own garage. Once thieves have chosen your bike and had the time to pick the lock, the expensive investment is gone.
High-priced e-bikes in particular are very popular for stealing, but even the supposedly old collector's items are not safe from theft.
Bicycle thieves are well acquainted with ordinary bicycle locks. That is why it is very easy for them to crack conventional locks in the shortest possible time. An additional alarm system offers increased security and is suitable for every bicycle owner.
What types of bicycle alarm systems are there?
There are two types of bicycle alarm systems:
External and internal bike alarm
An external bike alarm system is a small device that is mounted on the bike.
Ideally, this is small, handy and can be installed inconspicuously.
Internal bicycle alarm systems combine a bicycle lock with an alarm.
Virtually undetectable to thieves. A bike lock with alarm offers combined security at a high level.
A bicycle lock with an alarm – the internal variant
Bike locks with an alarm system are equipped with integrated motion sensors that monitor all movements of your bike 24/7. If a bike thief tampers with your bike or tries to carry it away, a 110dB alarm will sound for up to 30 seconds. This volume is comparable to a chainsaw or a rock concert. If there is further manipulation, the alarm continues, so that the bicycle thief is constantly disturbed in his plan and finally gives up.

When the bicycle alarm is over, the alarm tone usually sounds again if the bicycle thief tries his luck again. However, if it was an accidental impact, the alarm will stop after the individual time has elapsed. The bicycle alarm system can be switched off early by opening the lock, entering a code or by confirming it in the app (depending on the model).

The volume of the alarm alone has a very high deterrent potential . The loud alarm goes off abruptly and without warning, distracting the thief from concentrating on his theft attempt. Passers-by are made aware of what is happening in the area and the theft of a bicycle is no longer hidden. And attention is the last thing a perpetrator needs.

In some cases, a bicycle lock with an alarm is linked to a smartphone app. You will then receive an instant notification on your connected smartphone. So you are on the safe side if someone unauthorized is on your bike and tries to steal it. In most cases, it is important that you are within reception range.
AT A GLANCE Bicycle alarm system
Integrated sensors in the bike lock register unwanted movement
Up to 110dB and up to 30 seconds long
Connection to a smartphone app
An external alarm system on the bike
An external alarm system on the bike must be installed in addition to your own lock. These transmitters are screwed to a suitable location with screws.
Suitable places on the bike can be:
Under the saddle
Right on the handlebar
Under the luggage rack
There is usually an extra hand-held transmitter or remote control, which is used to send the alarm and operate the bicycle alarm system. This must always be carried with you in order to be able to react to false alarms, for example.

The alarm sounds similar to a bicycle lock with an alarm. The message on the remote control, on the other hand, can quickly be too quiet if the ambient noise is too loud or the receiver is in your handbag. So you don't notice anything about the attempted theft and have no way of reacting. An app connection, as is already common in some bike locks with an alarm, offers an ideal addition . If a long range is important to you, you should definitely compare it before you buy.


A plus: The acquisition costs are usually lower than those of a bicycle lock with an alarm. Nevertheless, it remains an external device that must be permanently installed on the bike and operated with an extra remote control.
AT A GLANCE Alarm system on the bike
Transmitter and receiver device in addition to the bike lock
Notification of the alarm to the remote control
Low acquisition costs
How much does a bicycle alarm system cost?
The prices of bicycle alarm systems range from 15 euros to 150 euros, depending on the range of functions and quality. If it is an external bicycle alarm system, these are usually cheaper. A bike lock with an alarm is available from 40 euros and up.
Bicycle alarm systems that are built into bicycle locks are priced a little higher, but offer more options to protect your bike from theft. Because bicycle locks in particular are the target of many thieves in order to steal the entire bike. The thief quickly refrains from his plan due to a continuous alarm tone.
Compare and buy bicycle alarm systems
A bicycle alarm system can either be bought from a specialist dealer in the city or from larger and smaller online shops. It makes sense to consider which system of a bicycle alarm system is preferred and whether additional functions are desired, such as:
App control
Setting the sensitivity of the alarm
Smart alarm with pre-alarm
Alarm volume
The bicycle lock with alarm I LOCK IT, which we present here, can be ordered directly in the online shop.
Enhanced security is a must for those who depend on their bike every day or where the purchase price has been very expensive. A secure bicycle lock always forms a solid basis for protection against bicycle theft .
Modern and innovative extensions such as an external alarm system on the bike or integrated into a bike lock also increase security!
Don't let your bike get stolen and equip your bike with an alarm. Ideally, an alarm system on the bike deters potential thieves from attempting theft.
An alarm system attached to the bike helps the potential thief to assess his chances of being successful as too low and to refrain from theft from the outset.
Take the opportunity to increase security to the maximum!