Dynamic Spoke Avoidance System
When using other frame locks, cyclists must always pay attention to the position of the bicycle spokes when parking the bicycle in order to be able to lock them securely. Because every now and then a spoke gets in the way and has to be corrected manually.
For this reason, you have had to make compromises when it comes to comfort.

With I LOCK IT+ and I LOCK IT GPS this problem is a thing of the past!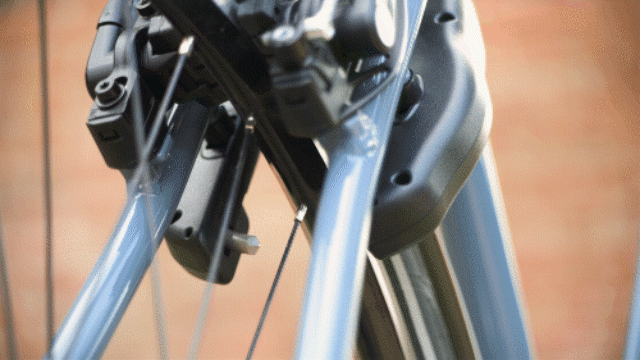 Maximum comfort with the dynamic spoke avoidance system
The dynamic spoke avoidance system (DSA system for short) developed and patented by us maximizes comfort .

In other words: I LOCK IT+ and I LOCK IT GPS implement the globally unique DSA system.

In combination with the automatic opening, your everyday cycling life will be much more convenient!
How does the DSA system work?
At first glance, the sharpened locking bolt can be made out, which slides past the wheel spokes, in accordance with its primary function of spoke avoidance. But that alone does not form the DSA system.

In addition, the perfectly coordinated interaction of the locking bolt, a more powerful motor and the flex adapters was worked out in the process of development work.
Furthermore, the increased performance in combination with flexible responsiveness makes the DSA system stand out.
All I LOCK IT functions at a glance
Exclusively for I LOCK IT GPS:
GPS Live Tracker

If an alarm was triggered on your bike, the live tracking mode starts. You can track the position of your bike via the I LOCK IT app.

Proximity location function

The I LOCK IT app tells you via Bluetooth connection whether you are approaching your bike or whether you are in the wrong lane.

Signal sound function

With the I LOCK IT app, you can have I LOCK IT GPS emit a 110 dB signal tone and you are guaranteed to find your bike.